High-Performance Tech for In-House Excellence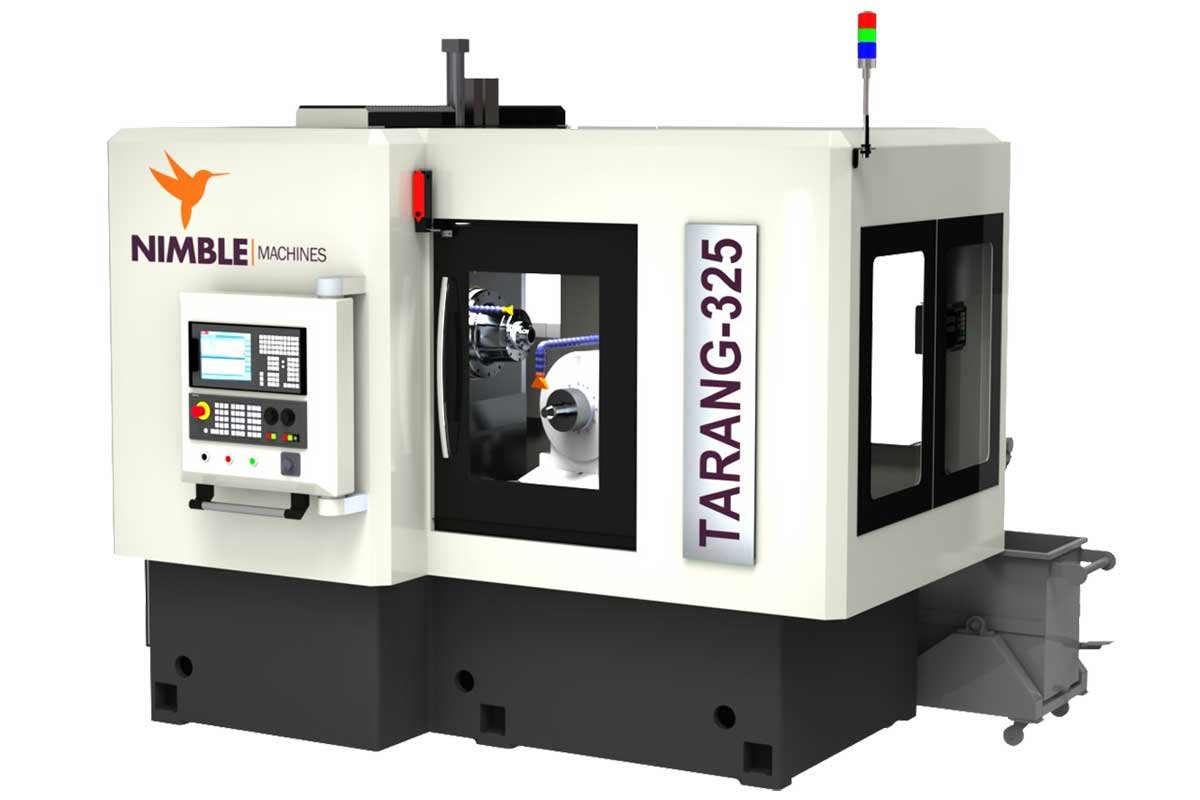 UCAM-Nimble Machines has launched a line-up of CNC Gear Hobbing Machines, to boost the country's Make In India initiative
With more than three decades of leadership in manufacturing precision equipment, including CNC Rotary Tables, UCAM Pvt. Ltd. is now offering CNC Gear manufacturing solutions under its business vertical Nimble Machines. Boosting the 'Make In India' vision, the philosophy of Nimble machines is to elevate the Indian machine tool industry on a global platform.
Nimble Machines offers high-speed CNC gear manufacturing solutions. Their portfolios consist of CNC gear hobbing machines – the VAJRA 130, VAJRA 250 and the VAJRA 400, capable of upto 8 modules, and 400mm diameter.
Nimble Machines also manufactures TARANG-325, a 5 axis CNC spiral bevel gear generator machine. TARANG-325 is developed using a face milling method, and teeth are generated using circular interpolation of the cutter. It is capable of machining gears up to 7 modules and 325mm diameter. TARANG was built keeping in mind ergonomic design for improved accessibility and maintenance. TARANG won the CII (Confederation of Indian Industry) Design award in 2022.
Technological solutions
With policymakers targeting the 5 trillion USD economy, along with USD 1 trillion manufacturing economy, demand for precision gears for various fields such as automobile, automation, energy and other allied sectors is set to pick up in. Additionally, the requirement of silent gears is on the rise, with the emergence of the e-mobility market.
With such a need for high performance, precision and quality gears, customers expect a commercially competitive solution. Keeping these needs in mind, Nimble Machines has developed machines with various features and is able to manufacture at the lowest cost per part to the customer. Some of the technology includes Direct Drive (DDR) technology, Electronic Gearbox (EGB) and Servo tailstock with programmable clamping pressure. The machines are designed with UCRIDE® technology consisting of epoxy granite filling, to ensure reduced vibration and higher damping effect. They are also loaded with automation solutions such as Indexing Ring Loader, Component Magazine and advanced workholding solutions, which enhances the overall rate of productivity. These features enable the machines to produce high-quality gears of up to DIN7 at a higher production rate.
New launches
To cater to the demands of smaller, high-quality gears, Nimble Machines has introduced the smaller variant: VAJRA 130 high speed hobbing machine. Launched at IMTEX 2023, it is capable of both dry and wet hobbing up to module 3, and 130mm diameter. VAJRA 130 received a lot of interest and hype from industry stakeholders.
Determined to grow
Launched in 2015, Nimble Machines is steadily making inroads into the Indian gear manufacturing market and now ready for the International markets. Nimble Machines caters to customers from various segments, from Tier-1 automobile gear manufacturing companies, to SMEs catering to general engineering.
About The Author